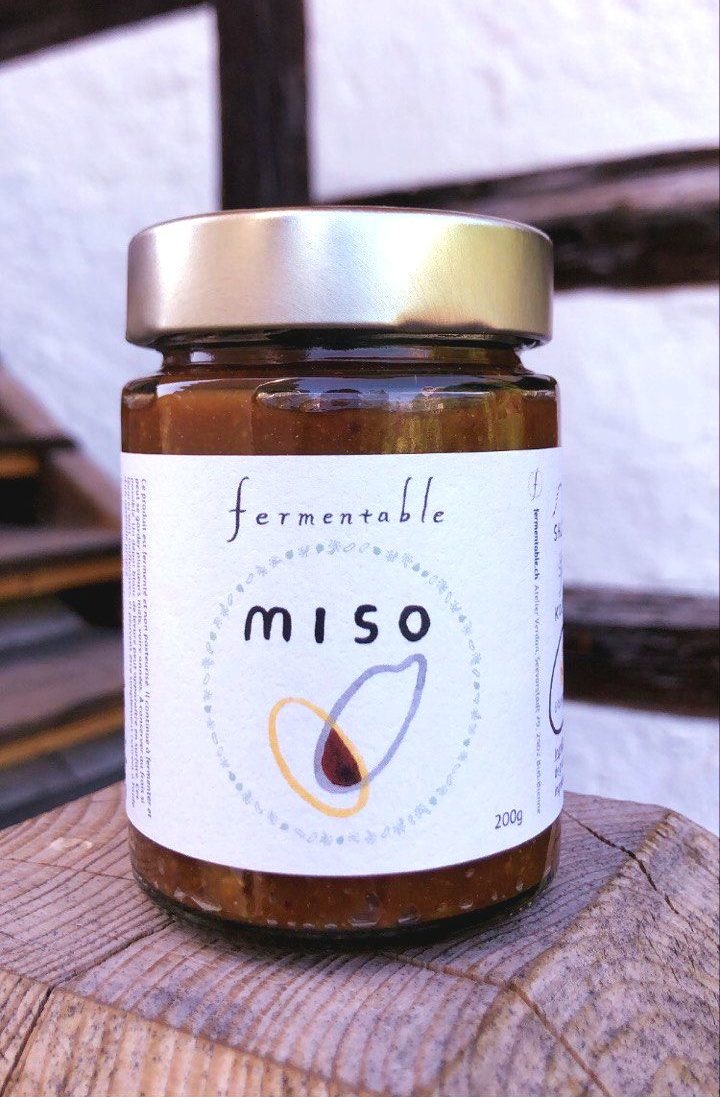 Miso
Mon miso est généralement plus doux et moins salé que ce que l'on trouve sur le marché, mais je le fermente pendant un an, contrairement au miso shiro. J'aime jouer avec les variations du ratio koji: haricot et mélanger les haricots aussi, donc gardez un œil sur les détails de chaque pot.
Étant originaire d'Osaka, ma préférence va au miso de riz et j'ai tendance à m'en tenir aux méthodes traditionnelles en utilisant les ingrédients habituels : riz koji, soja et sel. Le riz est biologique et provient d'Italie et les graines de soja proviennent de Bio Waeberhof à Ins. Je privilégie le sel de mer, étant donné que mes pays d'origine sont tous deux des îles.
Salé, sucré, amer, acide, umami.
Le miso s'écrivait autrefois 身礎, ce qui traduit les fondations de son corps, c'est dire à quel point il fait partie intégrante de la cuisine japonaise. C'est dans le maquillage des gens. Maintenant, il s'écrit 味噌 (même prononciation) et peut être traduit librement pour signifier saveur trépidante, bruyante. Personnellement, j'adore cela car le miso est connu pour couvrir les cinq composantes de la saveur :
Miso wurde früher als 身礎 geschrieben, was so viel wie "Fundament des Körpers" bedeutet, so sehr ist es ein fester Bestandteil der japanischen Küche. Es ist in der Verfassung der Menschen enthalten. Jetzt wird es 味噌 geschrieben (gleiche Aussprache) und kann frei übersetzt werden mit hektischem, lautem Geschmack. Ich persönlich liebe das, denn Miso ist dafür bekannt, dass es alle fünf Geschmackskomponenten abdeckt:
Salzigkeit, Süße, Bitterkeit, Säure, Umami
Da ich aus Osaka stamme, bevorzuge ich Reis-Miso und halte mich an traditionelle Methoden mit den üblichen Verdächtigen: Reiskoji, Sojabohnen und Salz. Der Reis ist biologisch und kommt aus Italien, die Sojabohnen stammen vom Bio Waeberhof in Ins. Ich bevorzuge Meersalz, da meine Herkunftsländer beide Inseln sind.
Mein Miso ist in der Regel süßer und salzärmer als das, was man hier auf dem Markt findet, aber ich fermentiere es ein Jahr lang, anders als bei Shiro-Miso. Ich spiele gerne mit Variationen des Koji:Bohnen-Verhältnisses und mische auch die Bohnen, also halten Sie Ausschau nach den Details auf jedem Glas.
Miso used to be written as 身礎, which translates the foundations of one's body, that is how integral a part of Japanese cuisine it is. It is in the people's makeup. Now it's written 味噌(same pronunciation) and can be loosely translated to mean hectic, noisy flavour. I personally love this as miso is known to cover all five flavour components:
Saltiness, Sweetness, Bitterness, Acidity, Umami
Being from Osaka, my preference is for rice miso and I tend to stick to traditional methods using the usual suspects: rice koji, soybeans and salt. The rice is organic and comes from Italy and the soybeans hail from Bio Waeberhof in Ins. I favour sea salt, given my origin countries are both islands.
My miso is typically sweeter and lower in salt than what you find on the market here, but I ferment it for a year, unlike with shiro miso. I do like to play with variations on koji:bean ratio and mix up the beans too, so keep an eye out for the details on each jar.
Ingredients
Organic short grain rice (inoculated with Aspergillus Oryzae), organic soybeans, sea salt
How to eat
Miso belongs most places you'd want salt, but it brings with it a deeply satisfying tone.
Storage
Since it's unpasteurized, it will continue to ferment at room temperature. You may find that surface yeast appears, but this is harmless. Please ensure you use clean utensils when scooping out your miso to keep surface mold at bay. Mold should be kept in check and, depending on its appearance, can be scooped off at your discretion. To keep flavour consistent, store in the fridge.
Commander
Order
Bestellen