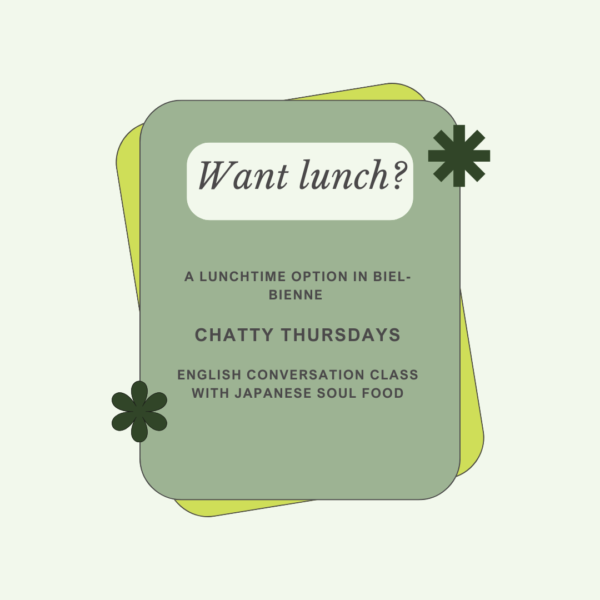 Chatty Thursdays
CHF20 – CHF40
Come and join me in my atelier for a one hour English Conversation Class
Every week I'll choose a new topic to cover and I'll guide the group through a steadily flowing conversation. In order to avoid disruption of the conversation, I'll give collective feedback at the end. Throughout the hour, however, I will help with prompts and vocabulary where needed. You will go home with a list of relevant vocabulary and phrases.
Recommended English Level : B1 and above
You're welcome to come just to see if the level suits you. It is meant to be a little bit challenging, that is how we learn and improve.
An example of past topics I've covered would be:
Country Brands
"If you're from Switzerland, how do you think people outside of Switzerland view your country? Try to think of your country as a brand - is it high end? Affordable? Considered of high quality? "

"If you're from elsewhere, how do you regard Switzerland's brand? How does it compare to that of your country?"

We then match a list of adjectives to countries around the world based on our subjective opinions and compare and contrast.
LUNCH
You can opt to have lunch with us at the same time, killing two birds with one stone. You're also welcome to bring your own lunch.

Perhaps some of you are here just to take the lunch and run, that's also an option.

Just select the relevant product in the drop down.

CANCELLATION POLICY
You won't need to buy an Abo, which makes planning a little easier. I ask that you sign up at least two days in advance (unless you're coming just for the lesson and not for lunch, in which case same day bookings are also welcome).
Due to the preparation involved, I kindly ask that you treat the sign up as binding. If you cannot make it, please try to find a replacement as I cannot offer refunds. Thank you for your understanding.
Quand
Thursdays 12:00-13:00