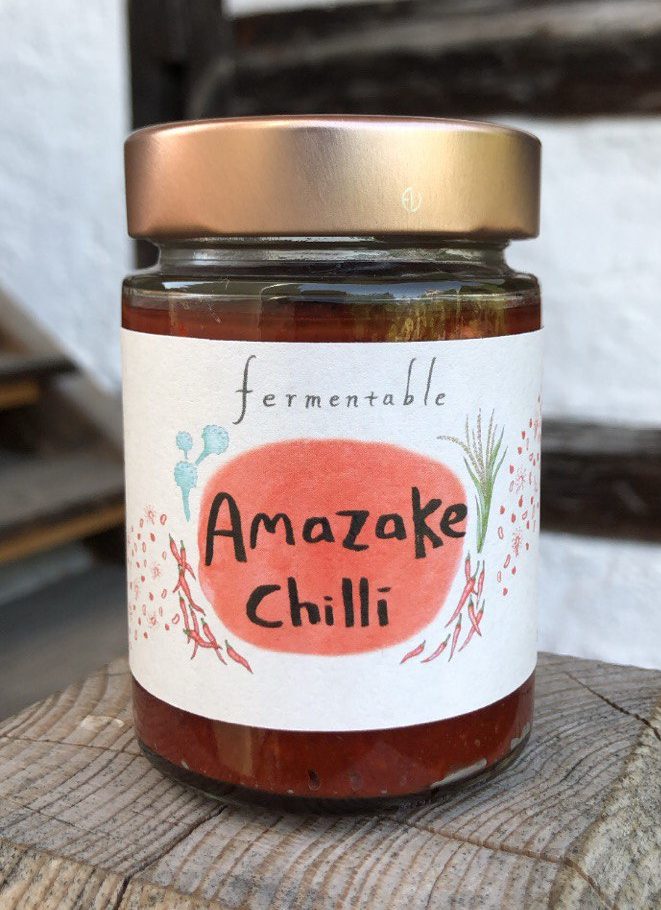 Amazake Chili
J'adore le piment coréen gochugaru et l'utiliser dans mon kimchi ne me suffisait pas. Je me suis donc inspirée de ma cuisine natale et de celle de la Corée pour créer une pâte épicée et riche en umamis qui se marie avec tout.
L'amazake, l'ingrédient principal, est du riz fermenté au koji – l'amidon est converti en glucose, ce qui donne une concoction sucrée ressemblant à un porridge. Les avantages pour la santé sont trop nombreux pour être énumérés ici.
L'Amazake est fabriqué à partir de riz biologique provenant d'Italie, auquel j'ajoute du sel de mer et des flocons de piment de Gochugaru.
Ich liebe den koreanischen Gochugaru-Chili und die Verwendung in meinem Kimchi war mir einfach nicht genug. Also habe ich mich sowohl von meiner heimischen als auch von der koreanischen Küche inspirieren lassen und eine würzige, umamireiche Paste zusammengestellt, die zu allem passt.
Amazake, die Hauptzutat, ist fermentierter Reiskoji – Stärke wird in Glukose umgewandelt, was zu einem süßen, breiartigen Gebräu führt. Die gesundheitlichen Vorteile sind zu zahlreich, um sie hier aufzuzählen.
Der Amazake wird aus Bio-Reis aus Italien hergestellt, dem ich Meersalz und Gochugaru-Chiliflocken hinzufüge.
I adore Korean gochugaru chilli and using it in my Kimchi just wasn't enough for me, so I took inspiration from both my native cuisine and Korea's and put together a spicy, umami-rich paste that will go with anything.
Amazake, the main ingredient, is fermented rice koji – starch is converted to glucose, resulting in a sweet, porridge-like concoction. The health benefits are too numerous to list here.
The Amazake is made using organic rice from Italy, to this I add sea salt and gochugaru chilli flakes.
Ingredients
Amazake (shortgrain rice, rice koji (Aspergillus Oryzae)), gochugaru chilli flakes, sea salt.
How to eat
Despite its intense redness, this sauce is mildly spicy but full of deep flavours. I like to use it in sandwiches, in marinades and sauces, with raclette or fondue or mixed with mayo as an easy but delicious dip.
Storage
The sauce has been cooked and the amazake is no longer actively fermenting, however, it's recommended you keep it in the fridge upon opening.
Expiry date
The expiry date is a guideline, some would argue a sauce such as this one matures with age and keeps getting better. I have happily kept mine for up to a year, thanks to the relatively high salt content (7%). Please exercise caution as inserting a dirty utensil, for example, will invite unwanted mold and affect how well it keeps.
Commander
Order
Bestellen